Editorials
Numbers and Evidence of Forcible Deportation of Ukrainians to Russia in the Russo-Ukrainian War
By launching the full-scale war against Ukraine, Russia also began forcibly deporting Ukrainians from occupied territories to the Russian Federation and the Republic of Belarus. Such actions, which count as a crime against humanity, a war crime, and bare signs of genocide, were prepared beforehand by the Russian leadership. Forcibly deporting Ukrainians was not a rush decision, but a part of a planned policy. Many factors, which are introduced later in the article, indicate that the eviction of Ukrainians from their homes and further relocation against their will by Russian troops was a planned machinery. The one which, unfortunately, worked fine as a Swiss clock and has disturbing outcomes for Ukraine and its citizens. In this article, we will draw upon the process of forcible deportation of Ukrainians to Russia and explain the differences in numbers of deportees which appear in open sources.
A week before Russia's full-scale invasion of Ukraine, on February 18, 2022, the leader of the separatist quasi-state LPR, Leonid Pasichnyk ordered to create "evacuation trains" from the occupied territories of the Luhansk region to Russia [5]. The next day, he announced "evacuation" of the citizens, e.i. Ukrainians living in the temporarily occupied territories of Luhansk region. On that day, February 19, more than 13.5 thousand people were taken to Russia [6]. Presumably, they were deported to the city of Gukovo in Rostov region [7]. As for another separatist quasi-state DPR (territory of Donetsk region), the official orders to deport the civilians were not found. But according to Russian data, as of February 21, 2022, over 60 thousand people were transferred to the Russian Federation from both LPR and DPR [8]. This indicates that these separatist states affiliated by Russia started evicting Ukrainians from territories occupied since 2014 on the eve of the full-scale war. The 19th of February 2022, marks the start of mass forcible deportations of Ukrainians to Russia.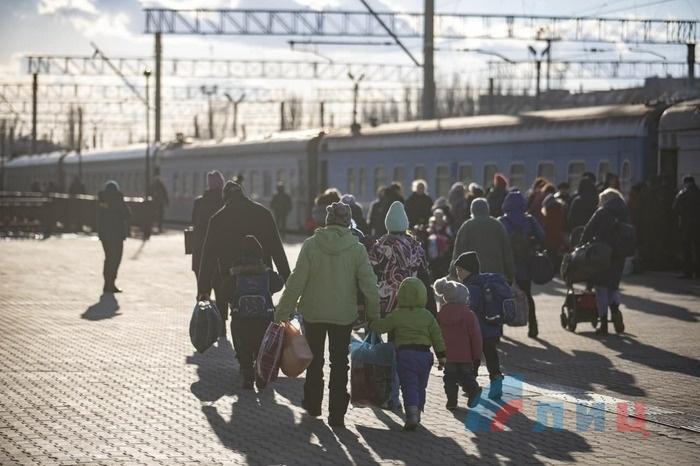 Later, upon occupying further territories of Ukraine, Russian troops also conducted a series of deportations. Many people from Donetsk, Luhansk, Zaporizhzhia, Kherson, Kharkiv, Sumy, and Kyiv regions were trying to escape from the Russians. Some attempts were successful, others not so. The Russian military blocked evacuation routs to the territories controlled by Ukraine or frequently shelled them. By limiting access to evacuation provided by the Ukrainian government for the citizens of the temporarily occupied territories, Russian troops left civilians without a choice. They allowed only one possible way for evacuation — to Russia [1]. Russians forced Ukrainians to take trains and buses heading to various regions of the Russian Federation, where they would be "safe". Though such "safety" is questionable because people were  involuntarily taken to an unknown country, often without any money, documents, or even phones, and were placed in temporary accommodation centres. Abduction and eviction of people, with their subsequent relocation, is defined as forcible deportation. This is precisely what the Russian government planned to do with Ukrainians and what Russian troops have been conduction for a year of the full-scale war.
The first information about Ukrainians who had been deported came from the Ukrainian authorities a month after the war started. On March 26, 2022, the Minister of Reintegration of Temporarily Occupied Territories Iryna Vereshchuk announced the estimated number of Ukrainians forcibly deported by Russia at 40 thousand people [4]. These are only the number of people forcibly abducted from territories occupied by the Russian troops in March.
To place deportees from Ukraine, the Russian authorities created so-called TACs — "temporary accommodation centres" both in regions bordering with Ukraine and across the Russian Federation. In fact, these are camps where Ukrainian citizens are taken to and are held at. They can leave TACs only if they prove that they have relatives or friends who can host them, and as testimonies of survivors show, this proves to be the easiest way to escape from Russia. Otherwise, all deported Ukrainians must stay in temporary accommodation centres. Usually, Russians convince them to sign documents for Russian residence, as their Ukrainian one was taken away at the border. People are being photographed and frequently checked by the police.
The Russian Orthodox Church is also involved in the forcible deportation of Ukrainians. In February and March 2022, the ROC's Department of Charity and Social Service ordered to create TACs on the basis of monasteries, charitable institutions and church orphanages, disguising it as helping "orthodox brotherly people escape the special military operation in Ukraine". On the official website of this department, there is information about the headquarters of church assistance to "refugees" in Moscow, where more than 29,000 people were registered between March and December 2022 [9]. Besides that, Russian Orthodox Church officials frequently visit deported Ukrainians in other TACs. On February 28, 2022, Metropolitan Mercury of Rostov visited the Romashka sports and recreation complex, located in the Neklinovsky district of the Rostov region. One article mentions 500 Ukrainian children who are staying in this complex and are displaced from two boarding schools and a social rehabilitation centres in Donetsk region [10].
As of October 24, 2022, Russian authorities created 807 such TACs in 58 regions, where people from Donetsk, Luhansk, Zaporizhzhia, and Kherson regions are being kept. According to Russian data, the total number of these people is 40 680, including 12 470 children [11].
Those deported Ukrainians who managed to escape from TACs seek for help of volunteer organizations or other means to get out of Russia through borders with the Baltic States. But it should be noted that the Russians make it as difficult as possible to leave the country [1]. For example, the Deutsche Welle article mentions the testimony of a Ukrainian woman who had to wait six days at the Kunichina Gora border to get to Estonia. During this time, she had to spend the night in the open air and stand in line with other Ukrainians, mostly men, in the constant rain, in cool weather. There were at least 600–800 Ukrainians at that border. According to the woman's testimony, only five people were allowed to cross in 24 hours at that checkpoint [2]. Russian guards delay the border crossing deliberately, letting only a few people through per day, which was recorded on the Russian-Latvian and Russian-Estonian borders [3].
As for the exact number of deported Ukrainians, there is no coherence between sources. For example, the British edition Independent reports at least 100,000 deported Ukrainians who, on the instructions of Russian President Vladimir Putin, are being sent to the most remote corners of Russia, including Siberia and the Arctic Circle [12]. The Brookings Institution estimates that there are 2.85 million Ukrainian deportees in the territory of the Russian Federation [13]. According to the UNHCR, as of October 3, there are 2.852 million Ukrainian citizens in the Russian Federation, and another 15,932 Ukrainian citizens are in the Republic of Belarus [14].
On October 3, 2022, according to Russian sources of information released the figure of 4.5 million Ukrainian deportees (they call them "refugees" or "evacuated people") in the Russian Federation, including 685,000 children [15].
The report of the Coalition "Ukraine. Five in the Morning" of January 16, 2023, states that the number of deported Ukrainians to Russia varies from 2.8 to 4.7 million, of whom 260 to 700 thousand are children [16]. The Children of War website indicates that 738 thousand children have been deported based on open sources voiced by the Russian Federation. The platform has identified 16,221 children who were deported from the temporarily occupied territories of Ukraine between February 24, 2022 and February 22, 2023 [17].
"Russia has taken numerous steps, such as simplifying the process of obtaining Russian citizenship to facilitate the adoption of some Ukrainian orphans and children without parental care, that strongly suggest an organized effort to absorb some members of these groups into Russian society. These actions indicate a deliberate Russian policy related to its deportation from Ukraine to Russia of some civilians, including children. Usually, deported Ukrainians are pressured to sign documents stating that they had witnessed war crimes by Ukrainian forces," says an Amnesty International report.
DON'T MISS IT
Subscribe for our news and update
The Russian Federation has already deported at least 2.8 million people, and according to some sources, up to 4.7 million. This is only during the period of full-scale aggression since February 24, according to the sources cited above. One of the purposes of these actions is the deliberate destruction of the Ukrainian people in order to subjugate them to the Russian dictatorship, and the abduction of children in order to resolve Russia's own catastrophic situation related to the demographic situation in the Russian Federation. These processes must be stopped by all possible means.
Sources & References:
Аналітичний звіт. Депортація громадян України з території ведення активних бойових дій чи з тимчасово окупованої території України на територію Російської Федерації та Республіки Білорусь.

URL:https://zmina.ua/en/publication-en/deportation-of-ukrainian-citizens-from-the-territory-of-active-military-operations-or-from-the-temporarily-occupied-territory-of-ukraine-to-the-territory-of-the-russian-federation-and-the-republic-of/

Украинским беженцам трудно попасть из РФ в Эстонию. Почему?

URL:https://www.dw.com/ru/casy-na-granice-i-otkazy-vo-vezde-pocemu-ukraincam-trudno-popast-iz-rf-v-estoniu/a-63432397

URL:

https://www.ukrinform.ru/rubric-society/3587165-vyezd-ukraincev-iz-rossii-cerez-strany-baltii-nahoditsa-na-osobom-kontrole-mid.html

 

Ірина Верещук: кількість насильно вивезених українців зараз може становити 40 тисяч – боремося за їх повернення.

URL:https://minre.gov.ua/news/iryna-vereshchuk-kilkist-nasylno-vyvezenyh-ukrayinciv-zaraz-mozhe-stanovyty-40-tysyach

Глава ЛНР из-за обострения ситуации призвал жителей Республики выехать на территорию РФ. 

URL:https://lug-info.com/news/glava-lnr-iz-za-obostreniya-situacii-prizval-zhitelej-respubliki-vyehat-na-territoriyu-rf-16451931745109

ЛНР планирует повторные отправки ж/д состава для эвакуации населения в РФ – Правительство.

URL:https://lug-info.com/news/lnr-planiruet-povtornye-otpravki-zh-d-sostava-dlya-evakuacii-naseleniya-v-rf-pravitel-stvo

Минтранс обнародовал график движения поезда с эвакуируемыми жителями ЛНР

URL:https://lug-info.com/news/mintrans-obnarodoval-grafik-dvizheniya-poezda-s-evakuiruemymi-zhitelyami-lnr

Эвакуация из ЛНР и ДНР в Россию. Главное. 

URL: https://www.rbc.ru/politics/20/02/2022/620fd6d99a7947a9ec85178c

В московском церковном штабе помощи беженцев приняли 29 тысяч обращений с марта.

URL:https://www.diaconia.ru/v-moskovskom-cerkovnom-shtabe-pomoshhi-be zhencev-prinyali-29000-obrashhenij-bezhencev-s-marta

Митрополит Ростовский Меркурий встретился с детьми, эвакуированными с территории Донбасса

URL:https://www.diaconia.ru/mitropolit-rostovskij-merkurij-vstretilsya-s-detmi-evakuirovannymi-s-territorii-donbassa

Число ПВР для беженцев в России достигло 807

URL:https://ria.ru/20221024/bezhentsy-1826256366.html

Putin 'resettling Ukrainians 5,500 miles away in Siberia and far east Russia', report claims

URL:https://www.independent.co.uk/news/world/europe/russia-ukraine-resettling-siberia-putin-b2056054.html

Ukrainian refugees: Challenges in a welcoming Europe

URL:https://www.brookings.edu/blog/future-development/2022/10/14/ukrainian-refugees-challenges-in-a-welcoming-europe/

Operational data portal. Ukrainian refugee situation

URL: https://data.unhcr.org/en/situations/ukraine

«Свыше 4,5 млн. беженцев прибыли в Россию с территории Украины и Донбасса с февраля». URL:

https://tass.ru/obschestvo/15936967

 

Від 2,8 до 4,7 млн українців є потенційними жертвами депортації, з них від 260 до 700 тис. діти, але точні цифри невідомі.

URL:https://mipl.org.ua/vid-28-do-47-mln-ukrayincziv-ye-potenczijnymy-zhertvamy-deportacziyi-z-nyh-vid-260-do-700-tys-dity-ale-tochni-czyfry-nevidomi/

Діти війни 24 лютого 2022-22 лютого 2023. URL:

https://childrenofwar.gov.ua/

 

США закликають Росію звільнити депортованих українців.

URL: https://www.kyivpost.com/uk/post/4390

США виявили 18 російських "фільтраційних таборів" для українців.

URL: https://www.pravda.com.ua/news/2022/07/9/7357137/